North County Criminal Defense Attorney and DUI Lawyer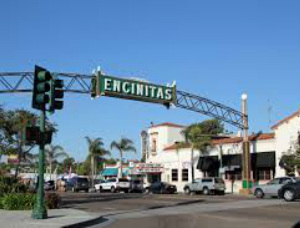 Encinitas is located about 25 miles north of San Diego. This beach city in the North County of San Diego is known for its cliffs, mesa bluffs, rolling hills, and its beautiful botanical gardens. Golf enthusiasts enjoy courses with beautiful ocean views, and history buffs value the historical architecture in the Encinitas shopping district. Encinitas is a great place for both young families and retirees, and has very low rates for violent crimes. Thefts and burglaries make up a majority of the crime in this city, but assaults and other crimes are not unheard of in Encinitas. Encinitas communities and law enforcement are proactive in addressing the crime trends in their city, and Encinitas is not known for being lenient on alleged criminals. If you or someone you know has been arrested in Encinitas, be sure to visit our Practice Areas page, which discusses the many charges in which we specialize.

Law Enforcement in Encinitas
The North Coastal San Diego County Sheriff's Department is located at 175 North El Camino Real. This station serves Encinitas, Solana Beach, and Del Mar communities. The station provides a full range of services, including patrol, crime prevention, crime lab, crime analysis, criminal intelligence, narcotics enforcement, emergency services, generalized and specialized investigative functions, and traffic services. There are seven detention facilities operated by the San Diego County Sheriff's Department. The San Diego Central Jail and Vista Detention Facility house male arrestees, while the Las Colinas and Vista Detention Facilities book female arrestees. All other inmates are housed under the care of the Sheriff. As of January 2000, the Sheriff's Department and the San Diego County Marshal's Office merged to provide court security and related services for the San Diego Superior Court.
The Department responds to nearly half a million calls annually, and handles over 300,000 "911" emergency calls and 400,000 non-emergency calls each year. With over 900 sworn deputies, community outreach is a top priority of the Department. Through partnership and educating the community, the Department provides several programs to promote the safety and well being of Encinitas and surrounding neighborhoods. In fact, the Department has specialists for their community outreach programs. For example, specialists in the Department's crime prevention program coordinate resources and help facilitate neighborhood watch, the crime-free multi-housing program, and even provides safety and prevention information at events like community fairs.
Encinitas Court
Encinitas residents are served by the North County Regional Center, which is a full service branch shared by the Superior Court, the Sheriff, Probation, the District Attorney, Revenue and Recovery, and the Board of Supervisors. This location hears cases under: criminal, civil, family, probate, small claims, appellate, adoption, traffic, and minor offenses. The North County Regional Center is located at 325 South Melrose Dr., in Vista.

FAQ's on California Possession Charges
How does California classify possession charges?
Depending on the facts and how the District Attorney (DA) decides to file it, your drug possession charge may fall under a simple infraction, misdemeanor, or felony. In many cases, the charge is considered a "wobbler," meaning the DA may choose to file it as either a misdemeanor or a felony. However, in 2014, California voters passed Prop 47, significantly changing the way that these cases are filed. Prop 47 is further discussed below.

What is Prop 47?
Prop 47 reduces certain drug possession felonies to misdemeanors. The interesting part about Prop 47 is that it permits re-sentencing for those already serving a prison sentence for any charges that may be reduced under Prop 47. This means that your possession charge, as a misdemeanor, will not carry a prison sentence or the type of fines associated with a felony conviction. In addition, it is easier for a good criminal defense attorney to negotiate the misdemeanor to an infraction.
What are some defenses to a possession charge?
The defenses available to you after you are charged with possession will greatly depend on the facts in your case. For this reason, it's critical that you speak with an experienced criminal defense attorney. Some of the most common defenses include: medical necessity, prescription, unlawful search or seizure, issues with lab analysis, and other improper police conduct.
SAN DIEGO CRIMINAL DEFENSE LAWYER
PRACTICE AREAS | CASE RESULTS | ATTORNEYS

www.iDefendSanDiego.com

Free Consultations - 619-930-9515

SAN DIEGO CRIMINAL DEFENSE ATTORNEY

By Lauren Noriega | Published By:

Nicholas Loncar