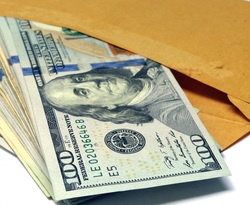 Financial or "White Collar" crimes have taken on a bigger role in criminal defense than ever before. While traditionally non-violent and without physical harm to its victims, white collar crime can greatly impact victims' financial well-being and sense of security. From more minor offenses like using another's credit card information to make an online purchase, to embezzling millions of dollars of client or company funds, offenses involving theft and fraud have become a major focal point of prosecuting agencies and law enforcement. Not only does the Federal government place a major emphasis on investigating financial crimes, insurance fraud and securities violations, but local law enforcement agencies are increasingly devoting their resources to stopping white collar crime.

Al Capone, one of the most notorious mobsters in US history, likely guilty of hundreds of murders, bootlegging and a host of other illegal activity, was finally caught and sentenced for none other than tax evasion. The FBI, SEC, IRS and other federal law enforcement agencies devote substantial resources to investigating financial and fraud crimes, and the US Attorney's Office is aggressive in its prosecution of these offenses. Moreover, the LAPD and LASD each have units dedicated to uncovering and investigating fraud and white collar theft offenses. These cases are complex, frequently requiring attorneys to review thousands of pages of financial records. Investigating and defending financial crimes is complicated and requires a devoted, intelligent, knowledgeable and experienced criminal defense attorney. Where appropriate, it may even be advised to have a team of multiple attorneys handle a complex financial crimes case. Innocent mistakes or misinterpretation of records by law enforcement can lead to wrongful accusations. Moreover, the complexity of these offenses can make their discovery and proper understanding by law enforcement difficult. It is imperative that those under investigation for financial crimes have an attorney on their side, particularly during any questioning.

Common white collar criminal offenses include: bank fraud, bankruptcy fraud, bribery, corporate fraud, counterfeiting, credit card fraud, cyber crimes, election fraud, embezzlement, extortion, forgery (including fake ID), hacking, healthcare fraud, hedge fund fraud, identity theft, immigration fraud, insurance fraud, lending fraud, money laundering, piracy/intellectual property theft, pyramid schemes, racketeering, RICO laws (organized crime), securities fraud, tax evasion, tax fraud, telemarketing fraud, welfare/benefits fraud and wire fraud. Senior citizens are among the most frequent victims of fraud-based crimes and crimes targeting seniors can be punished more harshly.

The term "white collar" stems from the increased likelihood that perpetrators of white collar crime will be professionals or even government officials. White collar crime defendants are frequently first time offenders, not having had any negative contact with law enforcement previously. Being in a position of being entrusted with large sums of money can be tempting, and can also make a crime appear "easy" to get away with. Though financial crimes are harshly prosecuted, the frequent lack of a criminal record is a major selling point in negotiations with the prosecuting agency, and can help to bolster the defendant's credibility should the case need to proceed to trial.

San Diego is a major city with a strong presence of major world-class corporations and industries. Furthermore, tourism and financial crimes are often closely related, with tourists being frequent victims and perpetrators of financial crimes. The proximity of San Diego to the Mexican border also means increased fraud pertaining to immigration, benefits, organized crime and more.

San Diego Criminal Defense Attorney Nicholas Loncar has a background in economics, and possesses the skill, knowledge and experience to help you with your financial crimes case. Whether you simply made an error in judgement, an accounting error, or have been falsely accused, the Law Offices of Nicholas Loncar will identify your best defense and work hard to achieve the best outcome in your case. If you have been arrested or charged with a white collar crime in San Diego, the consequences can be severe, and you need a passionate, aggressive attorney on your side. Contact the Law Offices of Nicholas Loncar now for a Free Consultation. 619-930-9515.

Nicholas M. Loncar, Esq. San Diego Criminal Defense Attorney

San Diego DUI Lawyer

San Diego Sex Crimes Lawyer

www.iDefendSanDiego.com 888-200-9454

By

Nicholas Loncar