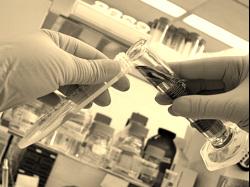 One of the greatest obstacles to convincing a jury in a DUI trial is overcoming the overwhelming tendency of most Californians to believe in the accuracy of the government's chemical testing. This makes it necessary to educate the jury and make sure that they understand the numerous flaws that exist with the various methods police use to try to measure a driver's Blood Alcohol Concentration (BAC). A county crime lab is far from the sophisticated labs you might see on television, and unlikely to measure up to your high school chemistry classroom. This article examines some of the flaws in breath testing, blood testing and the preliminary alcohol screening. This defense is one of many available in DUI cases.
WHY WE CANNOT TRUST BREATH TESTS TO MEASURE BAC
Breath technology is fundamentally flawed, to the point that even a perfectly designed an executed breath test device may not accurately reflect the amount of alcohol found in the blood. Understanding how a breathalyzer
estimates
BAC is fundamental to understanding how they are flawed, and why they should not be relied upon. Clearly, a breath test does not measure a driver's blood. In order to measure BAC, a breath alcohol test device actually measures air coming out of the body. In theory, these machines measure the alveolar air that contains only alcohol eliminated into the lungs, and the breath test device manufacturers have concluded that this number can be multiplied by 2100 and yield blood alcohol concentration.
What the government doesn't want people to know is that 2100 is merely the average partition ratio. The relationship between a person's breath and blood alcohol is not consistent across the entire population.
For example, Imagine you have ten equal-sized jars of coins. You count one of the jars and find that it contains $23.50. Would you expect your bank to accept your deposit of $235.00? Well the burden of proof beyond a reasonable doubt is very high. This estimate should not be enough to meet it.

Recent alcohol consumption, mouth alcohol (exacerbated by dental work, mouth piercings and periodontal disease), and medical conditions like G.E.R.D. can further call into question the accuracy of a breath test. Since the breath devices are designed to measure the alveolar air, the presence of other alcohol (often not yet absorbed into the bloodstream),
To convert a breath alcohol finding into a blood alcohol finding, breathalyzers multiply the amount of alcohol in the breath by 2100. Even if the tests are performed without human error, the presence of mouth alcohol is not affecting the tests and the machine has been properly calibrated, breath alcohol does not equal blood alcohol (nor is it consistently proportional). A person could be found guilty of DUI, simply for being different than the "average" person.
WHAT ABOUT THE PRELIMINARY ALCOHOL SCREENING DEVICE
The Preliminary Alcohol Screening ("P.A.S.") device that law enforcement officer use at the scene of a DUI investigation or DUI checkpoint utilizes a primitive fuel cell technology to attempt to gauge BAC. The P.A.S. test is even more susceptible to many of the flaws with breath testing discussed above. These results are not reliable enough to prove the BAC was above the legal limit in court, but can still be used by the defense to help establish a Rising BAC defense or question a later-performed test result.

HOW TO DEFEND A BLOOD TEST DUI
While blood alcohol tests are not subject to the "partition ratio" argument, there are flaws in the collection and testing of blood that can call the results into questions. The biggest problem with blood tests is that it often takes a long time to get a blood sample. California's DUI Laws punish driving while (at the same time) having a BAC above the legal limit. Alcohol continues to absorb into the blood stream for hours after alcohol consumption has stopped. Drivers who are on their way home from somewhere that they consumed alcohol, will likely have consumed alcoholic beverages that did not yet fully absorb into the blood stream at the time of driving. This means that the BAC of these drivers will continue to rise for over an hour after the stop. The blood test will most accurately reflect BAC at the time of the blood draw, which means less and less as time passes from the time of driving. Additionally, the San Diego County Crime Lab tests THOUSANDS of samples each year, doing so on primitive equipment that has been rejected for use by the pet food industry. There are very specific guidelines for the drawing, storage, chain of custody, preservation and testing of blood in a DUI case, and ways to call into doubt each and every step.

The various DUI charges San Diego DUI Lawyer Nicholas Loncar defense:
FIRST DUI | DUI WITH A PRIOR | DRUG DUI | DMV HEARING | DUI W/ INJURY | FELONY DUI

Other DUI defenses include:
RISING B.A.C. | MOUTH ALCOHOL | PROBABLE CAUSE FOR STOP | MEDICAL CONDITIONS
PROPER TESTING PROCEDURE | DRIVING PATTERN | FIELD SOBRIETY TESTS
(and nearly 50 more!)
If you or a loved one is facing DUI charges in San Diego, it is important to understand the possible consequences, defenses and procedures for preserving your driving privilege and fighting the criminal charges in court. Contact the Law Offices of Nicholas Loncar now for a Free Consultation with a San Diego DUI Lawyer. During your FREE consultation, we can discuss the detail of your traffic stop, arrest, field sobriety test, medical history and assessing the best defenses available to you. Getting started on your defense quickly is imperative, especially since you have only 10 days from the date of arrest to request a DMV hearing.