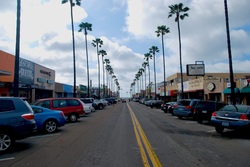 Ocean Beach is located northwest of Downtown San Diego, south of Mission Beach, and north of Point Loma. Once known as the Haight-Ashbury of San Diego because of its large hippie population, Ocean Beach is now a diverse community. However, Ocean Beach is still known for its vintage atmosphere, and is a favorite spot for local surfers. Ocean Beach natives also boast that their town has one of southern California's longest piers and one of the hippest dog beaches. Although Ocean Beach holds on to its hippie vibe, and is considered a tight-knit community, it has recently seen a spike in violent crimes. Historically, the town has seen more alcohol and drug related crimes and theft – but the small town definitely notices when more serious crimes start to increase.
If you or a loved one is arrested in Ocean Beach, be sure to check our
Practice Areas
page for competent and experienced legal assistance in a wide range of charges. It's important to obtain legal guidance immediately after the charges arise, as available legal strategies will change as time elapses. For example, once you are arrested with a DUI, you have only ten days to request a DMV hearing to prevent automatic suspension of your license. Upon conviction, there are similar tight deadlines for an appeal.
Ocean Beach Law Enforcement
The San Diego Police Department's Western Division serves the neighborhoods of Ocean Beach. This division serves about 130,000 people, covering about 23 miles. The division offers security checks on vacation homes and "You Are Not Alone" (YANA) checks for those who are disabled or elderly. The San Diego Police Department focuses on educating their neighborhoods about early crime prevention techniques, and involving the community in crime prevention activities and events. These events also serve the purpose of building trust between the Police Department and the citizens within the Ocean Beach communities. One of the most involved programs is the Crime Stoppers Organization. This Organization allows community members to help solve serious crimes. They're also linked with San Diego Unified School District – offering students cash for anonymous tips that help solve or prevent campus violence and vandalism.
Ocean Beach Court
Ocean Beach is served by the Hall of Justice Courthouse located on West Broadway. It is the newest facility in San Diego County, and is occupied by the Superior Court's Civil Independent Calendar courts, the Small Claims Business Office, the Sheriff's Court Services Bureau, Probation, and the DA's office.
Whether it's your first time being arrested, or whether you've been arrested before, there are common mistakes that defendants often make from the point contact with law enforcement until obtaining a lawyer. Here are some of the most common defendant blunders.
Hiring a lawyer based on cost alone
The saying is true – you get what you pay for. Cost is often a factor that weighs heavily in a client's attorney selection, but it should not be the only factor. It's important to look at the attorney's experience with your specific charges. For example, if you are facing DUI charges, make sure that the attorney you choose has experience (and success) in DUI cases. Significantly low pricing could mean that the attorney gets very little business, or that additional charges will likely arise through the representation. At the same time, hiring an attorney for well above the average rate does not always mean you will get top-notch representation. It's important to do your research.
Failing to hire an attorney right away
As discussed earlier, some clients put off their attorney search until the last minute. However, this significantly reduces their opportunity for a favorable outcome. It reduces the attorney's time and opportunity to receive critical documentation necessary for representation, and closes additional routes that may have been available at the beginning.
Choosing to represent themselves
Also known as a pro se defendant, some believe they can adequately represent themselves in front of the judge. However, understanding the meaning and options in each legal proceeding is crucial, and representing yourself is unlikely to result in a favorable outcome. The law is complicated, and you are not only paying for your attorney's knowledge, but also their experience in similar matters.
Making statements to police without an attorney present
Police are allowed to use several tactics to get you to talk, but you have a Constitutional right to have an attorney present during custodial interrogations. Trying to talk your way out of your criminal charge at this point will only give additional ammunition for the prosecutor once the charges are filed. Once you are read your Miranda Rights, insist on having counsel present before speaking with police.
BY LAUREN NORIEGA
WWW.IDEFENDSANDIEGO.COM
FREE CONSULTATIONS
619-930-9515